DJ Larkin, Executive Director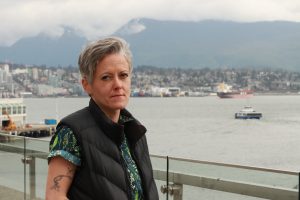 DJ Larkin is a respected lawyer and legal advocate who has worked on issues impacting people experiencing criminalization and systemic marginalization for over a decade. DJ has worked to centre the voices of people who use drugs through support for peer-led groups in Vancouver's Downtown Eastside and in working with individuals and organizations in numerous other regions and communities.
DJ has represented Indigenous governments—both elected and hereditary—in litigation regarding rights, land, and resource management. In 2017-2018, DJ also co-investigated and co-authored an in-depth report on systemic exclusion and marginalization of people living at the intersection of poverty, housing insecurity, and criminalized substance use aimed at creating systemic legislative and policy reform.
DJ currently lives on the unceded Indigenous lands of the xʷməθkʷəy̓əm (Musqueam), Skwxwú7mesh (Squamish) & səlil̓wətaʔɬ (Tsleil-Waututh) Peoples, and is committed to lifelong learning, self-improvement, and action to dismantle settler colonialism.
Beeta Senedjani, Dialogues Program Coordinator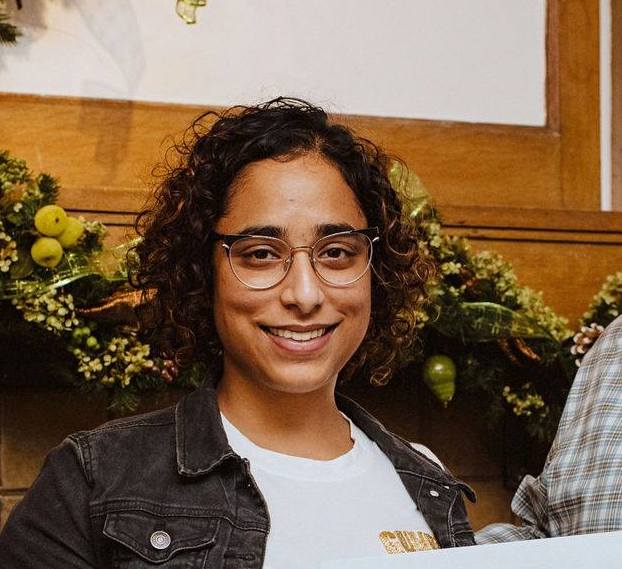 Beeta Senedjani is CDPC's Dialogues Program Coordinator, where she works on the national dialogues project, Getting to Tomorrow, and the provincial (BC) dialogues project Broken Drug Policies. She is an experienced project manager and brings with her nearly 10 years of experience in the health and social services sector. Most recently, Beeta developed a youth-centered mental health promotion program at Planned Parenthood Toronto. She also facilitates life skills, yoga and mindfulness groups for youth in Scarborough and Rexdale in Toronto as part of her work with New Leaf Foundation. Beeta is a board member of the Rouge Valley Conservation Centre and a long-time volunteer for the Canadian Centre for Victims of Torture. She also is a member of Greenhouse Theatre, a Scarborough-based arts collective. Beeta received her MEd from Ontario Institute for Studies in Education, specializing in Social Justice Education. In her spare time, Beeta enjoys forest-bathing and mushroom-hunting.
Nicole Luongo, Systems Change Coordinator
Nicole Luongo was born and raised on the unceded, traditional territories of the Sḵwx̱wú7mesh (Squamish), Stó:lō and Səl̓ílwətaʔ/Selilwitulh (Tsleil-Waututh) and xʷməθkʷəy̓əm (Musqueam) Nations (Vancouver, B. C.). She is the Canadian Drug Policy Coalition's BC systems change coordinator, where she oversees a project that advances education and advocacy around legal regulation. She is passionate about moving the conversation on drug policy beyond decriminalization and is guided by experiential knowledge of illicit drug use and homelessness.
Nicole has spent a decade working in solidarity with those most impacted by the intersections of drug prohibition, housing-deprivation, and disability (in)justice, including as a member of the Vancouver Area Network of Drug Users (VANDU) and the Canadian Association of People who Use Drugs (CAPUD). Her academic background is in medical sociology, and she mostly conducts research in the fields of Mad and critical drug studies. Before joining the CDPC, Nicole taught college in Alberta and throughout the Lower Mainland.
Ryan Do, Social Media Specialist
Ryan Do is Canadian Drug Policy Coalition's Social Media Specialist. He has a passion for social media storytelling and its ability to connect people and communities. Born and raised in Ottawa, Ontario, he began his career working in the health sector, creating unique social media strategies and content for medical clinics. Making his move over to Vancouver, Ryan began working at a digital marketing agency where he focused on creating campaigns, strategies, and content, sourcing creators, and assisting in product shoots for brands in the health and wellness, food and beverage, and fashion sectors. Being able to see the immense impact that social media plays in people's lives, Ryan was inspired to transition over to the social change sector.
Nick Boyce, Senior Policy Analyst
Nick (he/him) is the Canadian Drug Policy Coalition's Senior Policy Analyst. He was born in England, grew up in Toronto, Ontario, then completed a B.Sc. in Neuropsychology from Dalhousie University in Halifax, Nova Scotia. After witnessing an overdose death at a rave in 1999, he became a trained volunteer with TRIP! – providing safer drug use information and supplies to people in Toronto's rave and nightclub communities.
He has worked as the Gay Men's Harm Reduction Coordinator at the AIDS Committee of Toronto, as the Provincial Trainer with the Ontario HIV and Substance Use Training Program, and as Director of the Ontario Harm Reduction Network. He was a member of the Ontario Ministry of Health's former Opioid Emergency Task Force, is a past Board Member with Addictions and Mental Health Ontario, and is a member of the City of Toronto's decriminalization working group.
In 2017 he attended the European Drugs Summer School at ISCTE - Instituto Universitário de Lisboa in Portugal and was actively involved as a volunteer co-organizer with the Toronto Overdose Prevention Society, which set up an unsanctioned Overdose Prevention Site in Moss Park, Toronto that successfully effected policy change at all levels of government. He has spoken at regional, national and international events and provides regular media commentary and analysis. He currently lives in Ottawa, Ontario on unceded Anishinabe Algonquin territory.
Cassandra Smith, Education and Engagement Coordinator (African, Caribbean, and Black Communities)
Cassandra Smith is a Harm Reductionist and Public Speaker who shares her personal lived experience and expertise being a racialized woman navigating systems such as the criminal justice system, health care, harm reduction and mental health services. Overcoming adversities and impacting and advocating for these communities on a micro, mezzo and macro level. She holds 7 years' experience providing health promotion and harm reduction expertise working with staff who come from diverse racial, gender, ethnic, and cultural backgrounds and 6 years' experience supervising, training, and coaching harm reduction coordinators, staff, and peers. 
In 2022, Cassandra was involved in the development of the Harm Reduction fundamentals video series with CATIE. Her public speaking engagements include Toronto Children's Aid Society's 'Journey to Zero' launch and AGM, WHAI Women & Harm Reduction Webinar Series, Toronto Prisoner's Rights Project "We Keep Each Other Safe" Workshops, and the Canadian Drug Policy Coalition's Stimulus Connect. She recently joined the Canadian Drug Policy Coalition as the Community Engagement and Education Coordinator for African, Caribbean and Black Communities.
Imane Tounsi, Operations & Executive Assistant
Imane Tounsi comes to the team with over 10 years of international relations and operations management experience related to various international projects in non-profit, corporate and diplomatic sectors. Her lived experience as an immigrant shapes the way she plans and implements programs and allows her to provide capacity-building activities and hold space for those who have been marginalized and silenced.
Known among her colleagues for her resilience and charisma, she has established herself as an effective problem-solver whose skills are conducive to successful project delivery. Imane is dedicated to developing impactful programs where social justice, equity, diversity and inclusion are the foundations of the systemic change she aspires to achieve.
Imane is a racialized settler living on the unceded territories of the xʷməθkʷəy̓əm (Musqueam), Skwxwú7mesh (Squamish) & səlil̓wətaʔɬ (Tsleil-Waututh) Peoples, and has embarked on an intentional journey of learning the truth about Indigenous Peoples' history and their struggle with colonialism. She considers herself an ally in this fight and is here to support in any possible way.
Shane Calder, Dialogues Program Coordinator (Getting to Tomorrow)
Shane is the Coordinator of CDPC's national dialogue series Getting to Tomorrow. Born and raised on Lekwungen territory (Victoria, BC), he has been involved in community organizing since 1993. Focusing primarily on issues of poverty, homelessness, and workers' rights, Shane has acted in solidarity with many struggles through the organizing of community events and displays of resistance. Shane has a diverse range of organizing experience, from rallies of thousands to forums of a few, and everything in between. He is an experienced facilitator, educator, and public speaker who takes joy in being involved in grassroots organizing, shifting over the years to embrace a more heart-centred approach, and seeking to embody principles of anti-oppressive practice and collaboration into his organizing efforts.
Being a leading figure of more than one mass movement, Shane moved into a position with AVI Health and Community Services (formerly AIDS Vancouver Island) in 2008, when it was an organization in crisis due to the loss of its needle distribution program and intense public opposition. During this time, Shane had the privilege of working alongside People with Lived Experience of drug criminalization and their allies. Organizing resistance to the stigma and structural violence experienced by those at the very heart of the war on drugs had a profound impact on Shane and the relationships gained, and lost, during this time, impact him still. During his time at AVI he had the privilege of co-creating the Street College Program, the Annual Convergence for People Who use Drugs, Harm Reduction Victoria, the Yes2scs Campaign (yes to supervise consumption services), and the South Island Community Overdose Response Network. Further, Shane has had the honour of working with SOLID Outreach Services and the BC/Yukon Association of Drug War Survivors, both deeply influential groups by and for people overcoming the war on drugs.
Denise Baldwin, Community Engagement and Education Coordinator - Indigenous Focus
Denise Baldwin is the Community Engagement and Education Coordinator - Indigenous Focus for the CDPC.  Denise is a Black-Anishinaabe citizen of the Chippewa's of Nawash Unceded First Nation located within Ontario. Denise is from the Turtle Clan and a 5th generation Black "Canadian". She has over twenty years of experience working on the front lines in prevention, supervision, mentorship, and community service for vulnerable populations, specifically Indigenous people affected by the war on drugs. Denise is dedicated to community building and providing services to diverse communities, both socioeconomically and culturally.  Denise is currently the lead administrator and co-founder of the Indigenous Harm Reduction Network. She is also the Community and Social Services and AI Analyst for the rede4blacklives (Research Evaluation Data Ethics 4 Black Lives) team.