Overdose prevention and response during COVID-19, Overdose prevention and response during COVID-19 Click HERE for more resources
This document is one of six guidance documents by the CRISM network at the request of the federal government to address urgent needs of people who use drugs
COVID-19 pandemic compounds an ongoing public health crisis. There is a heightened need to reduce avoidable pressures on healthcare systems and support people who use opioids.
Guidance for service providers on how to alter harm reduction practices during pandemic to reduce spread of COVID-19 | Alberta Health Service COVID guidance
The following is a non-exhaustive tip sheet for stimulant-preferring or polydrug users, focusing on amphetamines, cocaine and crack cocaine.
Everyone is different but for some people who drink very heavily, stopping all at once or cutting down too fast can be dangerous.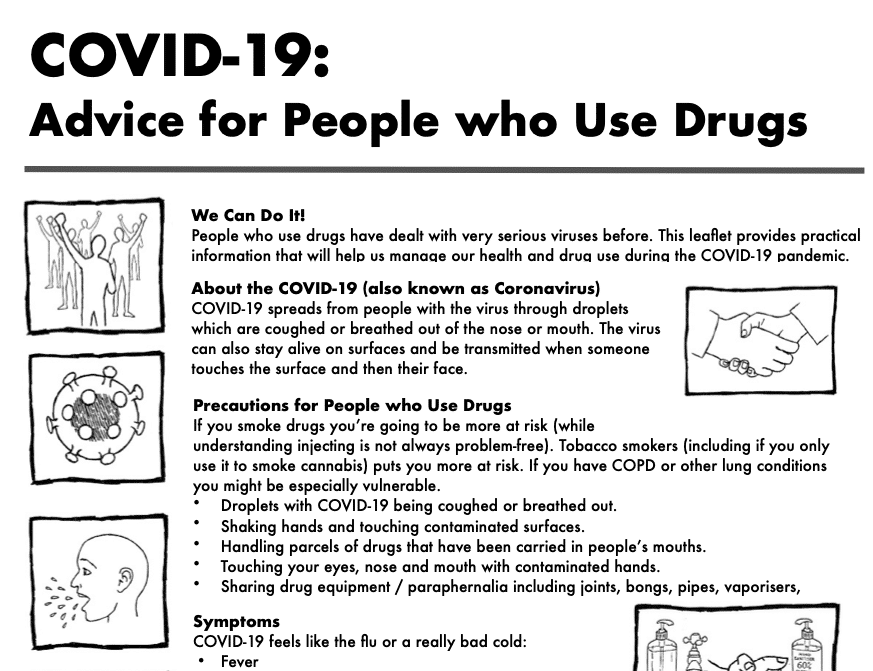 This leaflet provides practical information that will help us manage our health and drug use during the COVID-19 pandemic.
People who use drugs are at greatest risk for infection because of a lack of basic resources and structural barriers.
Guidance from Vancouver Coastal Health Authority on safer use strategies to avoid the transmission of COVID-19.