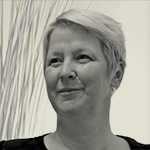 Julie-Soleil Meeson
Groupe de Recherche d'Intervention Psychosociale (GRIP Montréal)
Steering Committee
Julie-Soleil Meeson has a cumulative Baccalaureate from the University of Montreal in 2001, consisting of three certificates: Addiction, Mental Health and Criminology. She completed her Masters Degree in Criminology from the University of Montreal in 2005, focused on conflict resolution and violence among cocaine traffickers. Since 2008, she has worked at Groupe de Recherche d'Intervention Psychosociale (GRIP Montréal), first as Coordinator and now as Executive Director. She also holds the position of Executive Director of Élixir, a community organization in the Eastern Townships of Quebec focused on the prevention of addiction among women. Since 2013, Julie-Soleil has taught a Drugs and Criminality course at the University of Montreal. She firmly believes that prevention and harm reduction are essential for people to develop critical sensibilities and make enlightened decisions with regard to the consumption of psychoactive substances. Her current research projects are concerned with drug checking, new drug trends, drugs and performance, girls and risk behavior, and nightlife harm reduction.
Hundreds of supporters and community members converged in downtown Vancouver to send a message to policymakers. Prohibition is costing lives and safe supply is urgently needed.
From October 3 – 5, 2018, advocates and those inspired to create new approaches to drugs will be together in Edmonton, AB. This has been a CDPC vision for a long time….
This is a guest blog provided by Nazlee Maghsoudi. The Canadian Drug Policy attended HR17 and we are pleased to share this account of the conference. INCREASING INTERNATIONAL INTEREST IN DRUG…